Presented by Jones Partners
(Statistics obtained from AFSA website)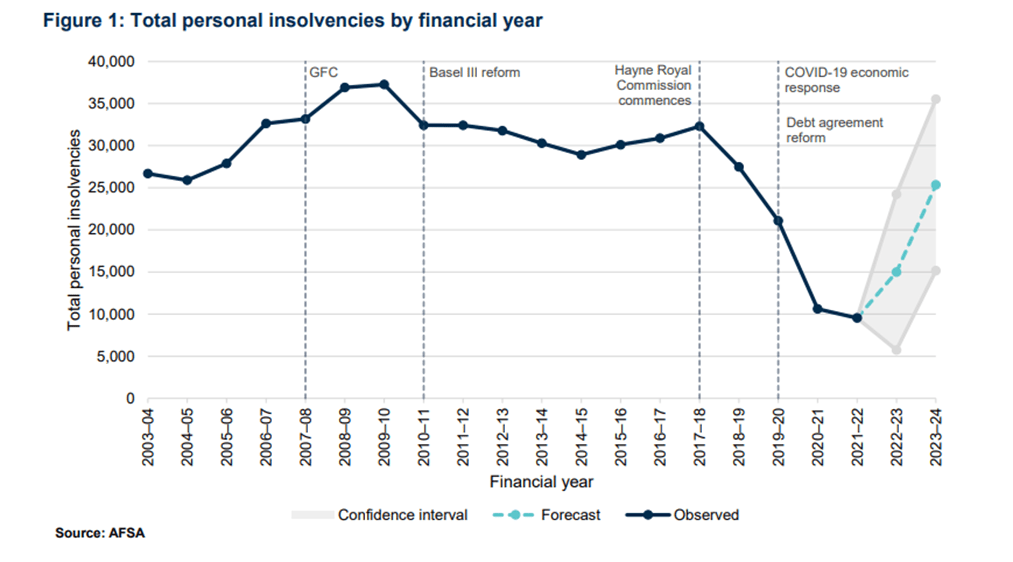 Personal Insolvency Trends
Statistics collected by AFSA show that the past few years recorded the lowest numbers of personal insolvencies in decades. However, AFSA projections show that numbers are expected to recover and climb as we head into 2023 and 2024.
Reasons for Initial Decline in Cases (taken from AFSA site)
Credit lending standards and practices continue to be affected by the Basel III regulations introduced in 2011 following the GFC.
The Hayne Royal Commission influenced further changes to creditor lending and recovery behaviours.
Amendments to the Bankruptcy Act changed the eligibility requirements for people to enter into a debt agreement and restricted the length of an agreement.
The response to the COVID-19 pandemic introduced temporary debt relief legislation, government stimulus, debt repayment holidays from industry and other coordinated measures to reduce financial hardship on businesses and individuals.
Reasons for Projected Increase in Cases
End of fiscal stimulus and debt relief.
Backlog of unpaid tax debt with the ATO coming to collect.
Rising costs from spiked interest rates and inflation.
Supply chain issues impacting the cost of energy and fuel.