Presented by Jones Partners
(Statistics obtained from ASIC website)
The first time a company enters external administration or has a controller appointed–Appointment JUNE 30th -29th JANUARY.
© Australian Securities & Investments Commission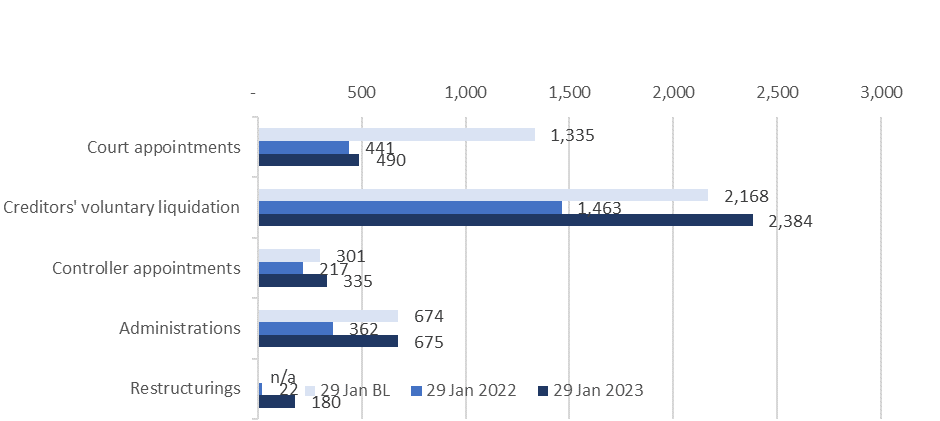 Corporate Insolvency Trends
The above statistics show a comparison in 2022, 2023 and base line (2017,2018,2019) highlighting the total numbers of administrations and controller appointments.
Court Appointments: Court appointments were not commonly implemented during the pandemic, due to the ATO not choosing to pursue companies in court for outstanding debt. They remain low in 2023.
Voluntary Administrations: Cases of voluntary administration have skyrocketed over the past 6 months, exceedingly even pre pandemic levels. The pandemic was a period of temporary relief from creditors, causing a build-up of large, outstanding debt. The rapid increase in voluntary administrations as of January 2023 indicates an end to this relief, forcing companies to enact restructuring initiatives under the pressing threat of DPN's and personal liability. It is also evidence that creditors are prepared to support genuine turnaround efforts.
Creditors Voluntary Liquidations: The number of voluntary creditor liquidations as of January 2023 has also exceeded pre pandemic levels. This can also be explained by the end of pandemic relief, mounting debt and DPN's. 
Restructurings: The Small Business Restructuring Process (SBRP) was introduced in 2022 to assist in reducing the impacts of costly and timely insolvency procedures on small businesses. They have remained reasonably unpopular due to the difficulty in effective implementation. We expect these will grow.
Controller Appointments: Controller appointments have remained moderately consistent both pre and post pandemic.
Half Yearly Total Corporate Insolvency Cases JUNE 30th -DEC 31st
2023 FY: 3798
2022 FY: 2269
Base Line (2017,2018,2019):  4062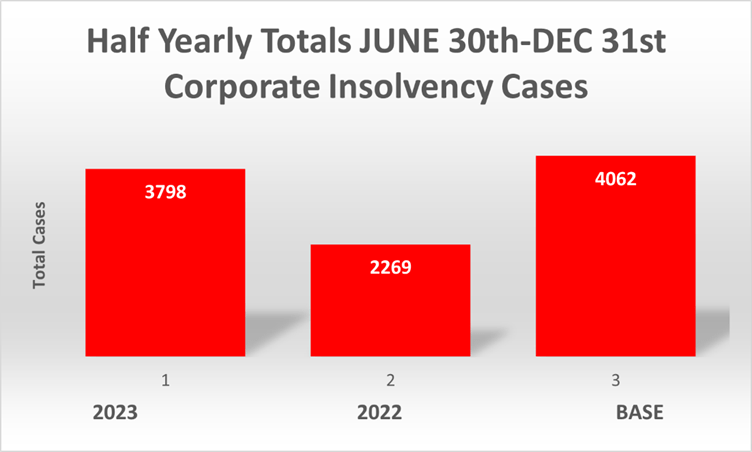 Conclusions
Cases of corporate insolvency are on the rise, having nearly recovered from pre pandemic levels.
The government is choosing to maintain a cooperative approach to debt recovery.
Insolvency statistics are highly dependent on the debt recovery approach adopted by the ATO.
Jones Partners predict a more aggressive approach to debt recovery in the coming months.