Presented by Jones Partners
(Statistics obtained from AFSA website)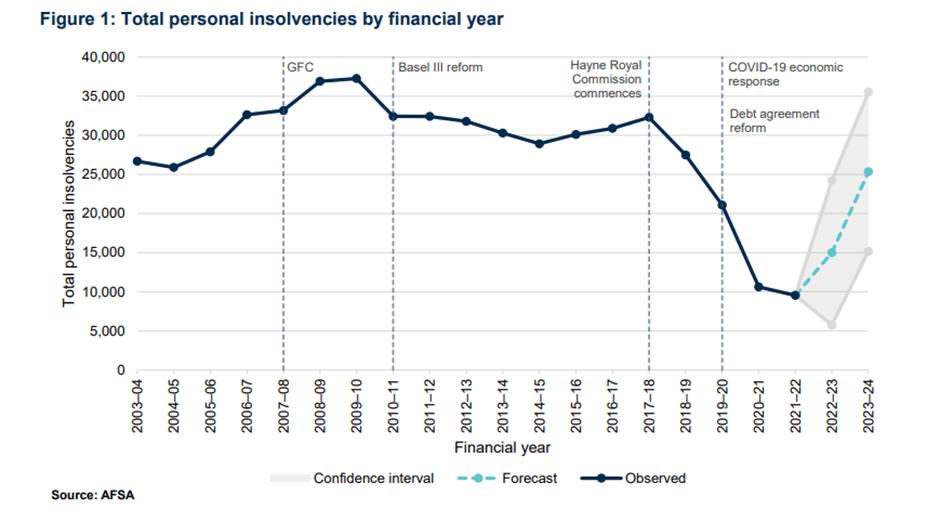 Personal Insolvency Trends
Insights from AFSA indicate the past few years recorded a sharp decline in cases of personal insolvency. AFSA have also projected that cases would begin to climb into 2023. However, statistics from the March monthly total of personal bankruptcies indicates that numbers remain surprisingly low, with a total of 579 bankruptcies.
Reasons for Continued Low Numbers (Insights by Jones Partners)
Continued record low unemployment.
The continued effects of fiscal support circulating throughout the economy.
Continued economic growth despite numerous cash rate hikes.
Reasons for Projected Increase in Cases
The cash rate hikes by the RBA can take months to take affect within the economy and slow down activity.
Increasing efforts from the ATO to claim outstanding tax debt.
An end to the fixed rate mortgage period with new, high interest rates beginning to take full effect. This will significantly impact household spending over the coming months.
Ongoing inflation and supply chain issues.
Final Conclusions
There has always been a strong, positive relationship between an increase in the cash rates and bankruptcy cases. However, there is usually a time lag. Individuals should seek help early on if they experience financial difficulty as options diminish with time.