Presented by Jones Partners
(Statistics obtained by ASIC website)
© Australian Securities & Investments Commission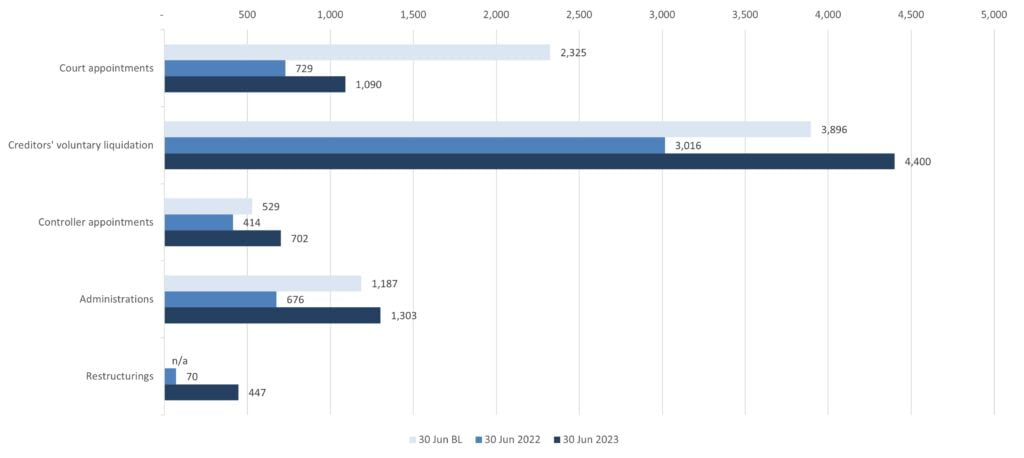 Corporate Insolvency Trends
The above statistics show a comparison in 2022, 2023 and base line (2017, 2018, 2019) highlighting the total numbers of administrations and controller appointments in the June 2023 Financial Year.
Court Appointments: Court appointments currently stand at 1090, as of 30th June 2023. Court appointments have significantly increased since 2022 but remain far behind baseline (which has a total of 2,325). The ATO continues to restrict this avenue of debt collection. However, the number of DPNs (Director Penalty Notices) being issued is increasing, and the ATO will eventually have to commence the pursuit of unpaid funds through the courts.
Creditors' Voluntary Liquidation: Creditors' voluntary liquidations continue to rise, exceeding the pre-pandemic baseline with a total of 4,400. They remain the most common insolvency procedure, and this statistic will likely continue to exceed the baseline into the second half of 2023.
Controller Appointments: Controller appointments continue to increase, exceeding the baseline with 702.
Voluntary Administrations: Voluntary Administrations in the 2023 FY remain ahead of the baseline and 2022 statistic, with a total of 1,303 administrations.
Restructurings: The popularity of the Small Business Restructurings (SBR) has significantly increased from their initial introduction in 2021, with a total of 447. The initial slow uptake was largely due to a lack of understanding of the process and confusion around eligibility requirements. However, they have now become a more widely used practice, allowing a collaborative approach between business owners and creditors, and providing a more affordable alternative to debt collection.
Conclusions
Cases of insolvency have recovered and are now exceeding the base line statistics (but for court appointments).
The increase in businesses experiencing financial difficulty is indicative of the declining economic growth statistic (currently at 2.3%). As this economic growth statistic continues to decline, cases of insolvency will continue to increase.
The impacts of fiscal spending by the government during the pandemic continues to unfold, with the long-term impacts still unknown.